Obituary for Richard "Dick" Lang, Father of SF Fastpitch Pitcher Rick Lang
Richard "Dick" Lang, 72, of Le Mars, Iowa passed away peacefully Saturday, February 9, 2013 at Plymouth Manor Care Center in Le Mars, Iowa surrounded by his family.

Funeral services will be 10:30 a.m. Friday, February 15, 2013 at Christ Lutheran Church, Grant Township, rural Le Mars, Iowa. Reverend Ben Worley will officiate. Burial will be at Calvary Cemetery in Le Mars. Visitation with the family present after 4:00 p.m. on Thursday, February 14, 2013 with a Prayer service at 7:00 p.m., all at Carlsen Funeral Home in Le Mars. Visitation will resume 1 hour prior to the service on Friday at the church. Expressions of sympathy can be extended to the family through www.carlsenfuneralhome.com.

Richard LeRoy Lang was born February 27, 1940, in Le Mars, Iowa, to LeRoy and Vivian (Renken) Lang. He attended Le Mars Central High School. Dick was united in marriage to Carol Nilles on February 24, 1962, at St. Mary's Catholic Church in Remsen, Iowa. They made their home in Boulder, Colorado.

He became a drywall contractor learning his trade in Boulder, Colorado. He worked as a drywall contractor from 1962-1968. They moved back to Le Mars and he worked for Tri-State Drywall from 1968-1971. In 1971 he started work with Moorman's Feed Company working there until 1972, then continued his sales work with Protein Plus Labs, Colfax, Illinois, from 1972-1976. He passed his real estate test and sold real estate for 5 years. He also contracted to build houses starting in 1976. He started back with his drywall business, Dick's Drywall, and continued with that until retirement. Carol passed away January 27, 2006 in Le Mars.

Dick enjoyed attending all of his grandchildren's activities and was an avid Bulldog fan. Some of his favorite past times were going for rides and sitting on his front porch with his dog, Sophie.

Survivors include his children Krista (Kyle) Klein, Le Mars, Iowa, and their children, Kristofer of Le Mars, Kenzi of Newport Beach, CA, Kelby of Cedar Falls, IA, and Karson of Golden, CO; Rick (Kay) Lang of Sioux Falls, SD, and their children, Cedrick of El Paso, TX, Kaylor of Vermillion, SD, and Derick of Sioux Falls, SD; Russ Lang of Le Mars, IA; Kerri (Troy) Ludwigs of Le Mars, IA, and their children, Ellie, Wylie, and Cambrie all of Le Mars, IA; sisters, Wanda (Ned) MaComb and Shirley Reilly, all of Le Mars; In-laws, Jim and Jean Nilles of Escondido, CA, Bonnie and Harlan Borchers of Le Mars, Jan Klein of Remsen, IA, Clara (Ron) Hunter of Le Mars, IA, Diane and Glenn Brown of Sioux Falls, SD, Dan and Sandi Nilles of Le Mars, Nancy and Charlie Brown of Cleghorn, IA, and Gene and Myrna Nilles of Sioux Falls, SD; and several nieces and nephews.

He was preceded in death by his wife Carol in 2006; his parents LeRoy and Vivian Lang, a brother: Doug Lang; brothers-in-law: Tom Nilles, Wayne Schulz, Elmer Klein; and his beloved dog and companion, Sophie.
Obituary for Isabelle Ellwanger, Mother of Bill Ellwanger of Pierre
Nov. 30, 1924-Feb. 12, 2013
Isabelle "Izzie" Ellwanger, 88, of Pierre, passed away Feb. 12, 2013, at Golden Living Center. Funeral Services will be at 11 a.m., Monday, Feb. 18, 2013, at First Congregational United Church of Christ
with visitation one hour prior. Inurnment will take place at a later date at Riverside Cemetery.
Isabelle "Izzie" Ellwanger was born Nov. 30, 1924, to Harley and Thelma (Johnson) Stickler at Stamford, S.D. She was the oldest of nine children. Izzie attended Hightshoe, Enright, Horseshoe Bend and Okaton High School. On May 11, 1946, she married William (Bill) Ellwanger and they made their home in Pierre, S.D. She was employed at the Okaton State Bank, was a teacher, a substitute teacher, ran her own daycare, was a Cub Scout leader, worked at a laundromat and did the books for their construction business.
Izzie enjoyed spending time with her family and attending events of her children and grandchildren. She enjoyed clipping articles from the paper and sending them with a note to people, made wonderful raised rolls and donuts and mouth watering angel food cake.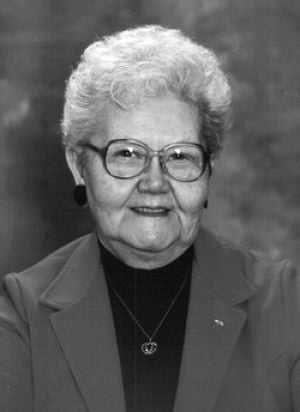 Izzie is survived by her husband of 66 years, William (Bill), Pierre, S.D.; one daughter, Gloria (Rick) Merriam, Pierre, S.D.; three sons, Gary (Virginia), Salem, Ore., Bob (Ellen), Rapid City, S.D., and Bill (Stacy), Pierre, S.D.; eight grandchildren Jenna (Steve) Lammers, Ryan (Tabitha) Merriam, Andrea (Shane) Byrd, Erin (Charles) Tivis, Cara (Anthony) Deiss, Tyler (Jill) Merriam, Whitney and Will Ellwanger; nine great-grandchildren Austin, Courtney, Parker, Beckett, Zoe, Ali, Ethan, Ayden, Lexi and two more on the way to be born in May; two sisters Hazel (Bob) Foley, Long Beach, Calif., Bonnie (Lyle) Dennis Rapid City, S.D.; two brothers Bob (Sadie) Stickler, Rapid City, S.D., and Virgil (Kathleen) Stickler, Murdo, S.D.; numerous sisters-in-law, brothers-in-law, nieces, nephews and cousins.
Izzie was preceded in death by her parents and brothers Glen, Melvin, Darrel and Kenneth.
Condolences may be conveyed to the family atwww.feigumfh.com.