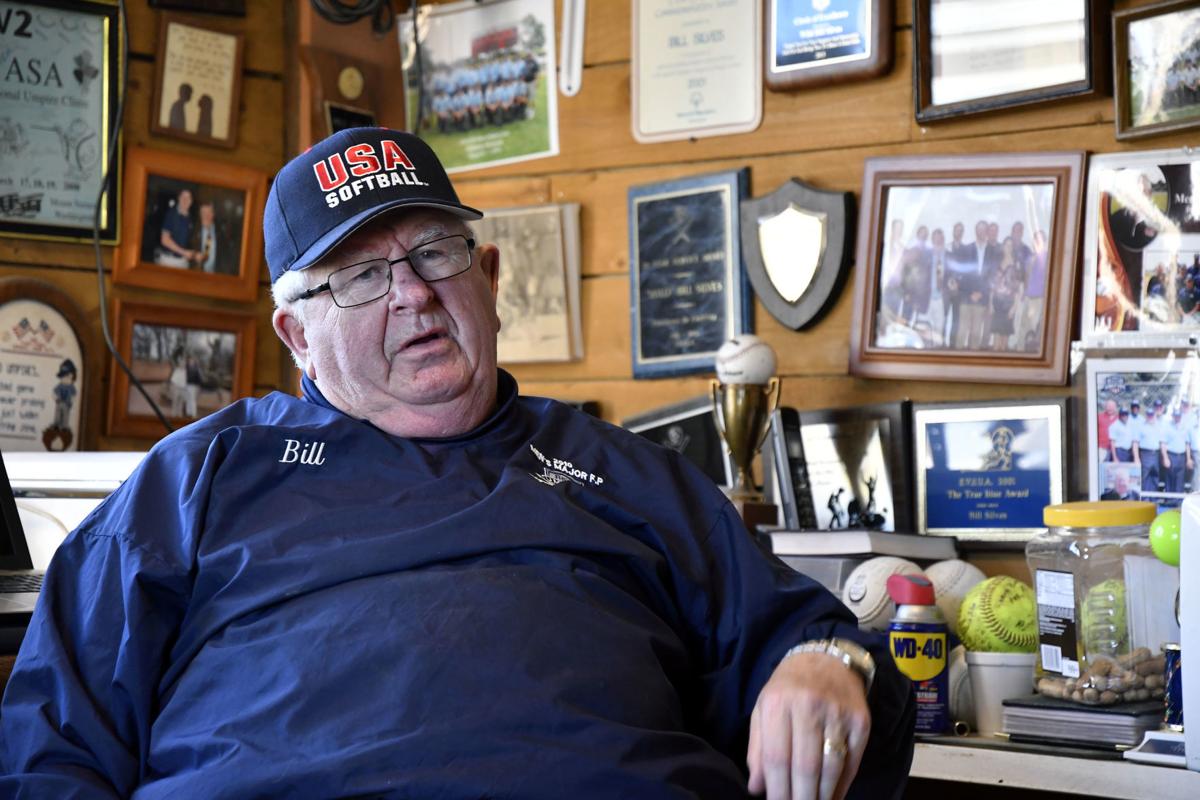 MOUNT VERNON — Bill Silves has spent a lot of time on softball diamonds.
One look at all the softball-related items in his man cave is an indication of that.
Known as "Wild Bill," Silves was recently honored for his over four decades as an umpire when he was inducted into the USA Softball Hall Of Fame in Oklahoma City.
"I was lucky," Silves said. "I wouldn't change a thing. I came from a little, podunk town to some of the best and biggest cities in the country and the world. I have gotten to see so much and have met so many great people. I still can't believe it."
Though he says he's usually unflappable, the hall of fame ceremony was something altogether different for Silves.
"Nothing bothers me," he said. "But this ceremony, I took my kids and grandkids. It was special and that got to me."
The plaque he received at the hall of fame will eventually be put up on a wall in the man cave in the home he shares with his wife of 48 years, Chris.
The plaque will have to fight for space among his other awards, certificates, framed articles, game passes, jerseys and other mementos of his lengthy umpiring career.
Silves got his first shot at the big time in 1979, working the championship game of the Women's Major Fast Pitch National Championship.
He would go on to work three more USA Softball national championships and several World Baseball Softball Confederation sanctioned events in Canada.
Silves also umped in what was then the Pacific-10 Conference, traveling extensively.
"The only time I was really serious was when I opened the gate and stepped on the field to umpire," he said of his demeanor.
"I had a quick thumb. I was a badass. I kicked out some big names. If you were nice about it, I'd let you sit out by the trees and watch."
Off the diamond, he became and remains a respected ambassador of the sport. He served as an umpire-in-chief not only in the Skagit Valley, but both regionally and nationally, where he has mentored and trained generations of umpires.
He's traveled to teach umping in Europe. He described that as a definite perk and thrill.
"I have met people from all over the world," Silves said. "And I've been on the field with some of the greatest amateur players of all time. It was special."
Silves played baseball as a kid, but he said he wasn't very good.
"I couldn't hit a curve ball. I had a rainbow of an arm and had short legs," he said.
So, still wanting to be around the game, he decided the best option was to umpire.
After graduating from Sedro-Woolley High School in 1965, Silves left a year later for Daytona Beach, Florida, and at the age of 18 attended the Al Somers Umpire School where he learned from the best.
"Major League umpires taught me how to do it," he said. "I learned from the best. And I kept learning."
After a stint in the military, Silves got back into umpiring and never left.
"Every weekend I was gone," he said. "I traveled everywhere. It was a way of life ... I really didn't think about it. I was doing about 300 games a year. I'd get on a plane and go."
Or in a car at the beginning of his career, where he umpired in such places as Sumas and Newhalem and Concrete.
Despite working so many big games, Silves said the highlight of his umpiring career was bringing a national softball tournament to Mount Vernon in 2010.
"That was big time," he said. "Big. It was special. I mean, we were up against Georgia and San Diego to host it. It was great to bring it here. That was real neat and a definite highlight."
Silves is home much more nowadays.
He retired from Safeway several years ago and from umpiring in 2016.
He says his full-time job now is being the best grandfather he can, and he enjoys hunting and fishing.
Silves figures he umpired about 10,000 games, and though he no longer works games he's fine with that.
"I have a home to come to," he said. "Every athlete is happiest when they come home. I never forgot where I was from and I like it here a lot. There isn't a better place in the world."