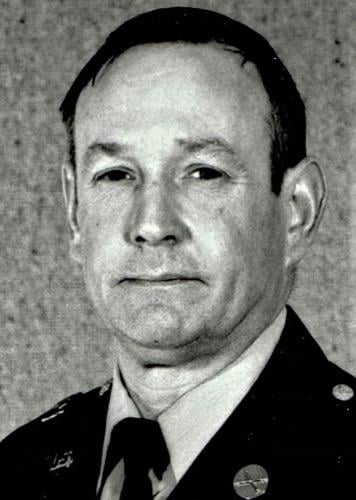 Randolph Harold "Randy" Howe, age 81. passed away April 6, 2022, at Avera Maryhouse nursing home in Pierre, South Dakota. There will be a funeral service at 1 p.m. on Tuesday, April 12th, at Isburg Funeral Chapel, with a visitation one hour prior to the services. Burial will follow at the Riverside Cemetery. For those unable to attend the services, they will be live-streamed on his obituary page at www.isburgfuneralchapels.com.
Randy and his twin brother Andy were born November 10, 1940, to Richard and Edna Howe in Washington, DC. Randy attended school in Huron, South Dakota, graduating from Huron High in 1960.
Randy joined the Air Force and served from 1963-1967, and was in the Air Force Reserve until he was honorably discharged on March 4, 1969. He joined the South Dakota National Guard in 1972 and retired on December 31, 1994.
After his discharge from Air Force active duty, he moved to Pierre, South Dakota, where he worked for a number of years as a manager in restaurants and lounges, and as the owner of the Little Chef ten-stool diner where his motto was "we serve 10,000 — 10 at a time." Catering was a large part of the business. He catered as few as gatherings of 20 people or banquets of 800 or more.
Randy met Dottie Howe in 1967 and, despite their 12 year age difference, with Dottie being the older of the two, they got along well. Randy had plenty of time to adjust to the thought of being the stepfather of her six teenage and young adult children who ranged in age from 15 to 22, when he and Dottie married on February 18, 1970.
After leaving the restaurant business, Randy went to work for the State of South Dakota in various positions, including the Chief Driver Examiner for the State. He eventually left State employment to become a full-time active Army National Guard. He retired as a Command Master Sergeant. Randy was always proud of his military experience and received many military honors over the years, including the National Defense Service Medal with bronze star, Small arms expert marksmanship ribbon, Army Reserve Components Achievement Medal, NCO professional development ribbon to name a few. He also received an award for the Order of St Barbara. This award is given to those individuals who have demonstrated the highest standards of integrity and moral character, displayed an outstanding degree of professional competence, served the Artillery with selflessness; and contributed to the promotion of the Artillery branch.
He loved military life. His wife Dottie would say that she thought he would rather salute her than kiss her.
He tirelessly helped his wife Dottie decorate Christmas trees at the South Dakota capitol building from 1981-1997.
Randy was very excited to get to take part in his grandson, Andrew McNulty's graduation from the U.S. Naval Academy. He was able to give Andrew his first coin as an officer. Later, when Andrew was deployed first as a company commander in Fallujah, he helped pack gift boxes to send to everyone in the company.
Randy believed in working and no task was too small or large to undertake. He was always the first to arrive at work and the last to leave at the end of the day. Full-time employment was never enough and over the years he sought out other part-time jobs, such as bartending for banquets and together with his brother Andy umpiring for years at the Pierre softball complex, where they were affectionately referred to as "the twins." Second only to the military was his love of football, basketball, and baseball. He was an avid Notre Dame and Green Bay Packers fan and always wore the appropriate jersey to watch their games.
In spite of adversity when his health began to fail in 2020, Randy remained cheerful and thankful for the care he received at Kelly's Retirement and Maryhouse.
Survivors include his stepchildren Russ (Sarah) Stoneback Rockford, Illinois, and their children, Macy and Ryan and their families; Barb (Harry) Christianson, Rapid City, and their children, Holly and Eric, in addition to 6 grandchildren; Steve (Susan) Stoneback, Pierre, and their 4 children, Stewart, Shane, Patrick, Scott, and 6 great-grandchildren; Jamie Damon of Pierre and her children Andrew and Joey McNulty, and 5 great-grandchildren; Bob (Joanie) Damon, Pierre, and their children, Joshua, Paul, Justin, and 4 grandchildren; Kate (Don) Boyd, Pierre, and their children, Kathy Lee, Jacob, and Kimberly and 5 great-grandchildren; special nephew Lance (Shirley) Howe and their children Jordanne and Dalton, Redfield, South Dakota. He was especially proud of both Lance and Dalton for becoming Eagle Scouts. Throughout his life, he became a friend to numerous grandchildren and great-grandchildren. His "guidance and counseling" was something that all his grandchildren looked forward to hearing.
He was preceded in death by his wife of 45 years Dottie, parents Dick and Edna Howe, brothers Andy and Mike, and his step-grandson Paul.
Please direct any memorials to Hospice.